2011 Pasture Walks Announced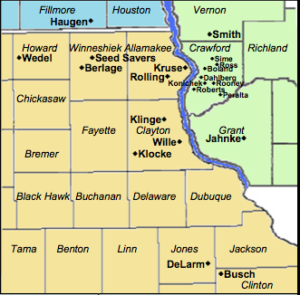 Please note: the June 29 pasture walk as been rescheduled to June 22.
Hosted by: Northeast Iowa Graziers & Great River Graziers
Beef, Dairy, Sheep, Goats
2011 Pasture walks have been announced. For a complete schedule DOWNLOAD HERE.
Iowa Pasture-Walk contacts:
LuAnn Rolling, NRCS, 563-568-2246 Jennifer Bentley, ISU Extension Dairy, 563-382-2949 Denise Schwab, ISU Extension Beef, 319-472-4739
Wisconsin Pasture-Walk contacts:
Vance Haugen, UW Extension, 608-326-0223 Dennis Rooney, 608-326-7179 Ext. 113 Bio-Security: Please wear "street" clothes. Disposable plastic boots available on request.